My Beliefs
My Beliefs
I believe that it is absolutely wonderful, so very exciting and great cause for celebration that you have found each other.  I am honored and privileged to share this magical time in your lives.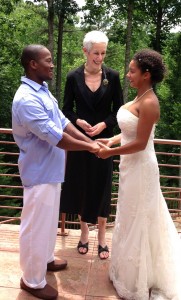 I believe that the most memorable ceremonies speak of a couple's personal beliefs, traditions, hopes and dreams. Every word you choose will proclaim and celebrate your emotional and spiritual bond, as well as your commitment to each other.
I believe that every couple deserves a marriage ceremony as unique as they are. You are distinctive and remarkable and your marriage ceremony should be no less. If your religious, spiritual or cultural backgrounds differ, if they are the same, or if you choose to celebrate with a non-denominational or civil ceremony, you can have the ceremony that will express your vision of this special day.
"A true Loving marriage celebrates the differences that brought you together and endear you to each other.  Your differences will bring balance and add color to your marriage."
I believe that every aspect of your ceremony is important. My attention to detail will help to keep you focused, stress-free and in the moment. I coordinate the many details often expected of a wedding planner, working easily with musicians, banquet managers, event planners and photographers.
I believe I have created an atmosphere where everyone is welcome to honor their love, their relationship, beliefs and traditions. Authenticity is encouraged.