What is Interfaith?
What Is Interfaith?
"Please join your hearts in love and celebration" An Interfaith Ceremony celebrates that which unites us and honors our similarities and differences with respect, love and joy. Isn't it amazing that in this huge world, you found each other? I believe that is surely reason to celebrate.
"Your differences will bring balance and add color to your marriage".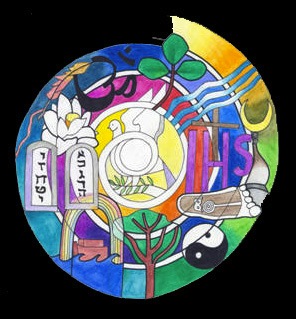 Interfaith is a universal and all-inclusive approach drawing from the teaching and wisdom of many traditions. Interfaith serves the needs and wishes of those who may be religious, those who are not religious, but spiritual; those who may be of the same faith or of different faiths, cultures and belief systems as well as those who are not religious or spiritual at all, yet desire a ceremony with more depth and romance than a civil ceremony would offer. If your religious, spiritual or cultural backgrounds differ, if they are the same, or if you choose to celebrate with a non-denominational or civil ceremony – together, we will create the ceremony that will express your vision of this special day.
All faiths and philosophies are given equal respect. Traditions are woven together in a way that is inclusive, where all present will feel comfortable and included.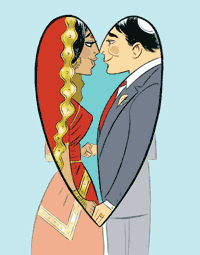 Family members often approach me, offering gratitude for a ceremony conducted from the heart with respect and personal care. Although they may not have heard those particular words before, the sentiments and the love in the room embraced them and felt familiar.
It has been my pleasure to work with couples and families of all faiths, combinations of faiths, cultures, backgrounds and lifestyles. Our ceremonies are always personal, romantic, heartfelt and inclusive honoring your beliefs and traditions.
Some Interfaith couples and their families feel it is important that clergy representing both their faiths participate in their marriage ceremony. I am always happy to co-officiate with the clergy of their choosing, or if desired, I can offer my recommendations.
Some Examples of Interfaith and Multi-Cultural Rituals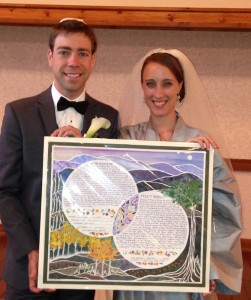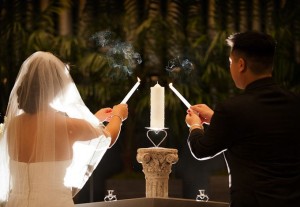 Candle lighting, breaking of the glass, Unity candle, standing under the chuppah, passing of the sign of peace, signing the ketubah,
seven wedding blessings and the wine ritual are all a common mixture of Judeo-Christian rituals.
Psalm from the Song of Solomon, St. Paul's letter to the Corinthians, readings from the Koran and the Book of Common Prayer shows the universality of love, respect and faith.
Hindu elements such as exchange of garlands and the seven steps can be woven in with candle lighting and Christian prayers. Native American blessings, Buddhist rituals, Iranian Sofreh, Celtic prayers,Handfasting, Irish wedding blessings, Chinese tea ceremony, exchange of the Greek Stephana (crowns), Japanese sake ceremony and Honoring of Ancestors, are all possibilities and the list continues.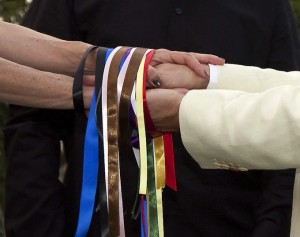 Cultural elements such as African/American jumping of the broom may be a meaningful and visual way to honor a family's heritage. The beautiful thing is that there is a common denominator and they are all metaphors for honoring the love that is shared. These traditions may be represented with or without religious context. Of course, romantic readings and rituals simply may be the perfect choice for you.