Weddings
"Be My Husband" – Nina Simone 
 Weddings
Preparation of the Ceremony
I'm always happy to invite each couple to meet with me. However, due to distance and schedule limitations, meeting in person may not be practical or convenient; in which case, telephone and Skype consultations will be just as effective.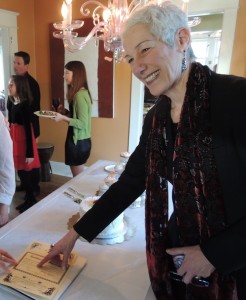 As no two ceremonies are alike, I will ask many questions and will offer suggestions and options to guide you through the creation of your wedding ceremony step by step. As we get to know each other, I will learn precisely how you wish to share and celebrate your marriage. I will use those ideas and values that are meaningful specifically to you in the creation of your personalized wedding ceremony. 
"Please join your hearts in love and celebration"
Everyone will feel comfortable and included in an atmosphere of invitation and intimacy. Your guests are more than observers; they are participants. Although they may not have heard these particular words before, the words and the love in the room will embrace them and feel familiar to them. This is a Loving wedding ceremony. All present will feel the most profound sense of joy as you exchange words of depth and beauty so true and perfect for you.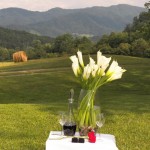 From the Welcoming Address to the the Final Presentation you will decide on every word, participant and element that you wish to include. (You may breathe easily, for there is nothing to memorize). Many couples love my ceremonies exactly as presented, others wish to make changes and add sentiments and ideas of their own. Many often express their relief knowing that I will not simply "show up and read to them from a book." Ultimately, the final result will be your personal wedding ceremony; a meaningful, unique and graceful representation of your relationship and your marriage.  
The Ceremony This is your wedding ceremony. It is the manifestation of your dreams and your visions.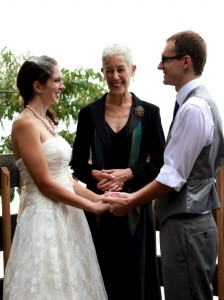 The heart of your wedding is your ceremony. (remember, without me, it's just a party) Your ceremony is about your love, your relationship and your families; reflecting who you are and what you believe. It is my goal to reflect the magic of your love back to you and all those present.  "We were touched by your spoken words and the love present in the room" The structure of a ceremony may include:
     Processional
     Invocation
     Welcome
     The Foundation (my words to you that speak of your relationship and marriage)
     Inclusion of Children – Blending of Families
     Honoring Parents – Flower Presentation
     Remembrance of those who have passed away
     Candle Lighting
     Sand Ceremony or Love Letter Box
     Exchange of Rings and Vows
     Wine Ceremony
     Final Benediction
     Pronouncement
     Breaking of the Glass
     The Kiss (hooray)
     Recessional
These elements may be delivered without mention of God or any religious context.
Include Options That Mean The Most To You And Your Family
Candle lighting
:  Visually express the joining of two people and the radiance of your love. All will see that your union is a combination of your unique and individual lights as you symbolically form the new and greater flame that is your marriage and your relationship. You may choose to incorporate your children or other family members in this wedding ritual, symbolizing the joining of two families. This may very well be one of your favorite photo opportunities.
Celebrating the children: Whether very young or grown, your children and grandchildren may participate in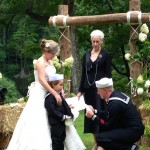 an emotionally expressive opportunity to display love and joining. (Please seeThe Blending of Families for more ideas)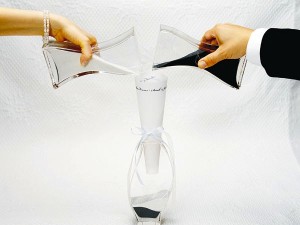 Sand ceremony: On this day of beautiful wedding rituals, symbolize your relationship in a visual and lasting token of your commitment. This graceful and moving Sand Ceremony expresses the merging of two hearts and two lives…and, if you choose, two families. Two vessels of sand are poured into a larger, clear vessel…"Notice how you are one, yet you remain as individual". As the weather will always have the final word, there will be no need to fear a windy day with the Sand Ceremony…perfect for an outdoor setting. The sand filled vessel that you take home will be a beautiful memento of your wedding day.
Offering of readings: Honor and include selected friends and family members in an important role with sentiments that are meaningful and personal to you. This wedding ritual offers a wonderful bilingual opportunity.
Presentation of flowers: A moving declaration to honor parents and/or other loved ones. This touching wedding ritual communicates the belief of many cultures – that marriage is the joining of not only two people, but of two families. The couple presents flowers to each other's parents as an expression of their love and gratitude while visually enacting the joining of their two families. It's often kept as a sweet secret from parents until the moment of presentation.
Blessing of the rings: "The wedding rings that you have chosen to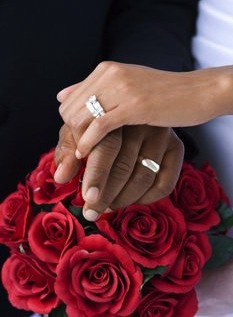 exchange this day are a symbol of commitment and enduring love that, like this circle, is without beginning and without end"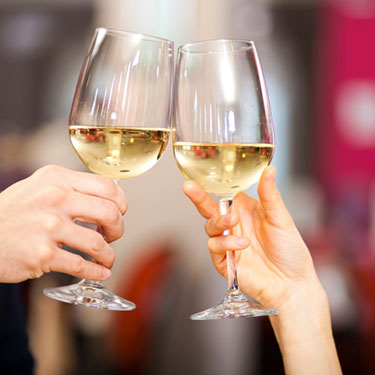 Wine (or non-alcoholic beverage) ceremony: An ancient wedding custom, symbolically portraying your commitment to share all that the future may bring. This will be your first toast to each other.
Anything you wish to include: Bring your own ideas; you never need my permission.  We will discuss how to best incorporate them into your dream wedding ceremony.  (Please see Some Examples of Interfaith and Multi-Cultural Rituals for a more complete list of ceremony ideas)
Anywhere you wish: I am available to perform your wedding ceremony at a reception hall, private home, garden, beach, park, aboard ship, in a sanctuary, on a mountain top, upon a motorcycle, or wherever you would like to begin your lives together.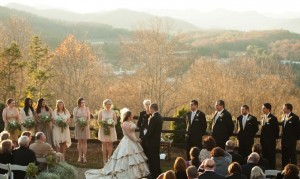 I will be happy to offer suggestions for lovely and unique wedding sites. In Asheville, NC, and the greater Western North Carolina area, the surrounding mountains and natural beauty of this world destination site will become part of the powerful visual and spiritual setting that will frame your ceremony.
Elopements – A quick ceremony: I am also available to perform your wedding ceremony after filing your marriage application at any NC county clerk's office.  You will need a marriage license and an appointment.  There is no need for you to return to the courthouse, as I will file your marriage license with probate after the ceremony.  Although you may not have had years to plan this wedding ceremony, I promise it will be personal, meaningful and romantic.  If you have not chosen a site, the ceremony may take place in my home, located 10 miles from downtown Asheville, where you will be surrounded by breathtaking mountain views.
Commitment Ceremonies: Commitment Ceremonies are a wonderful opportunity and available to couples who choose to celebrate and honor their love with a formal commitment to each other without undergoing a legal marriage. It is for those who cannot or simply do not wish to legally marry for personal reasons. It is a joyous arena for couples that want their commitment to each other to be recognized. There are no legal benefits and your decision to have a ceremony does not involve any government.
Dove Releases: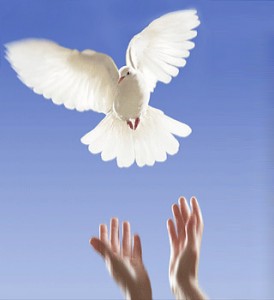 For Centuries, doves have symbolized love, peace and hope.
A white dove release is certainly one of the most spectacular and memorable aspects of any event. Gorgeous dove releases are the perfect way to create an instant photo opportunity and are always the highlight of any event.
Weddings:  I will help you create a dramatic ending to your wedding ceremony, as white doves of celebration wing their way to the sky, circle spectacularly overhead, and return to their home.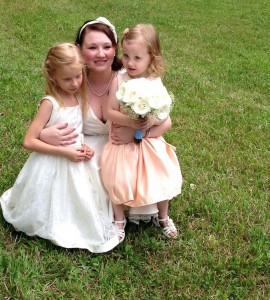 The Blending of families:   Children of all ages feel more accepting of a marriage when they are included in the wedding ceremony.  It is an opportunity for them to receive and share their love. Young children, grown children and grandchildren will be thrilled to be part of your big day.  They will remember for the rest of their lives that they were not only acknowledged, but were important and celebrated.
For those couples who are expecting a baby, we will create a place of honor with very special welcoming words that will embrace and include your baby into the wedding ceremony. "your baby, yet unknown to you, but already loved by you…." With innate ability and sensitivity, I will incorporate the joy of children into your ceremony.  While catering to your special day, I will balance your family's needs and will integrate them easily and gracefully into words of love for all to share.  "Today we witness the joining of not only two people, but the celebration of a family.  Your lives are blended together, just as the waters of separate rivers are mingled when they come together to form a much greater one."