Same Sex
Same Sex Ceremonies 
 Congratulations North Carolina!
AP- "A federal judge in North Carolina struck down the state's gay marriage ban 10/10/14, opening the way for the first same-sex weddings in the state to begin immediately." Read more here as well as the article in the Citizen Times
As an advocate of gay marriage for over 25 years, I am absolutely thrilled to be alive at a time to witness the latest changes in marriage laws. I will, of course, be honored to officiate your legal marriage ceremony.
I have been officiating same sex marriages since 1989, although the word "marriage" was not legally applicable for same-gender couples at that time in New York, where I then lived.  I believe that there is no difference between same-sex marriage ceremonies and straight marriage ceremonies. A marriage ceremony is a marriage ceremony and love is love, is love.
All the material on this website can be personlized and adapted for any couple.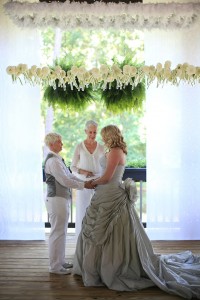 I was honored to perform my first LEGAL ceremony before I moved from New York in May, 2010.  I cannot fully describe the utter sense of elation and celebration I felt when I was finally able to say to my couple and their 150 guests:  "It is my legal right, my special privilege, and of course it is my joy to pronounce that you are now married"  Imagine, if you will, the tears of joy, the hollering and the celebration that ensued.
I do believe that it is only a matter of time until same-sex marraige is legalized in every state throughout the country. Until such time that all couples in our country have equal access to the rights and benefits provided by legal marriage, I welcome you to North Carolina and will be incredibly honored to officiate your legal marriage ceremony. I will help you to acknowledge and celebrate your love for one another with a truly loving and authentic ceremony. You may check this website for the latest same sex marriage laws.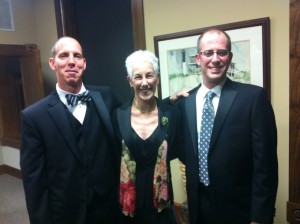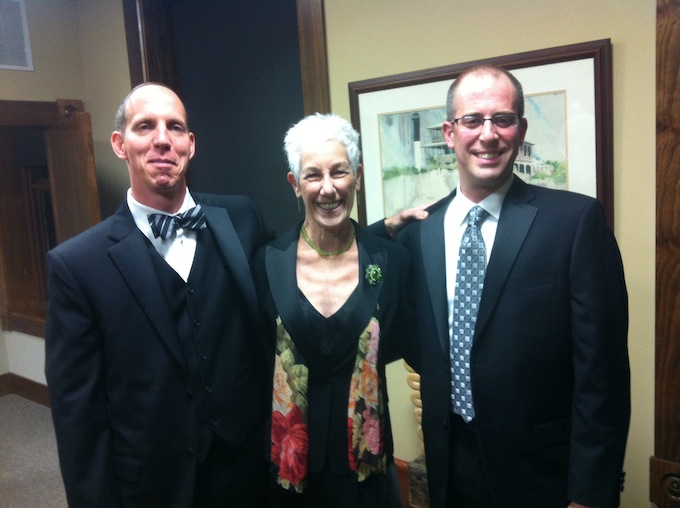 Your ceremony will be a unique opportunity to create a meaningful, profound and life-changing bond between you; establishing a sense of permanence and stability. It is a public declaration of life-long cvommitment, love and dedication between two people. (It is also a great opportunity to celebrate your love with a big party!)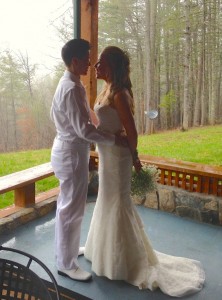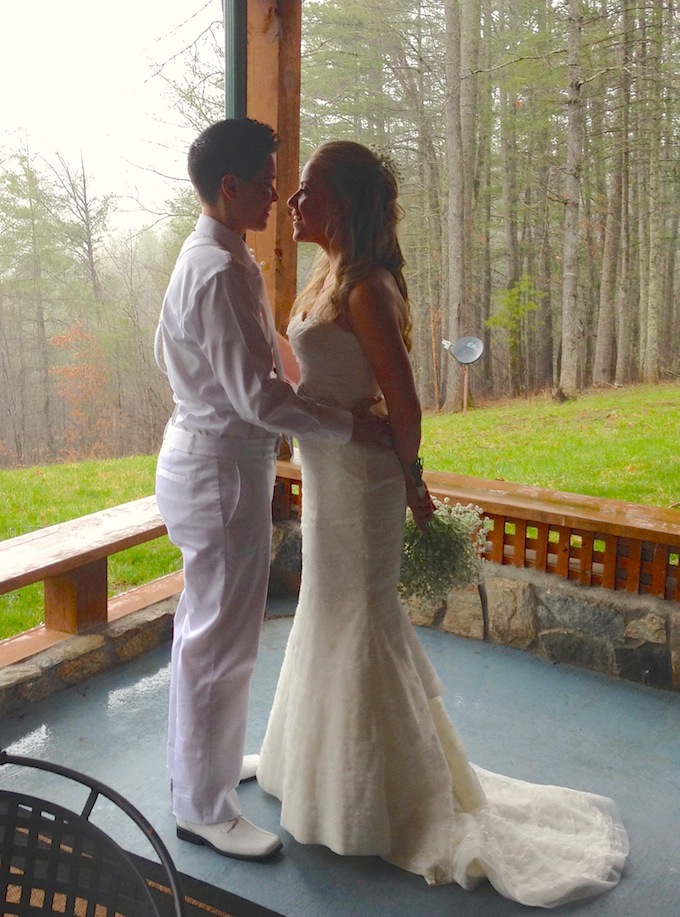 I understand that for many couples who never dreamed they could marry, they simply do not know how to begin. Whether you choose to have an intimate and private ceremony for just the two of you, or invite hundreds of friends and family members to a celebration acknowledging your marriage, I will be thrilled to take you through every step:  obtaining your license, creating your ceremony, location, vendor options, and of course, the celebration.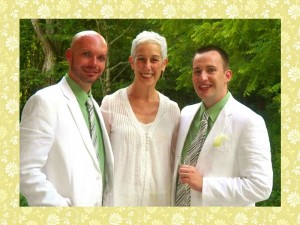 Your ceremony will be meaningful and dignified
no matter your background; religious, spiritual or civil affiliation, lifestyle or gender preference. It is a public declaration of life-long commitment, love and dedication between two people.
Q: How do you create your same gender ceremony?
A: Exactly like you would any marriage ceremony.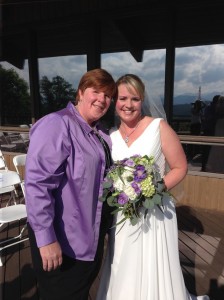 It is essential that your ceremony illuminate the essence of your bond with each other. Your partnership can be reflected in every aspect of the ceremony – from the clothing you wear, the spoken words, and the location you choose to celebrate.
I have been conducting ceremonies for couples of all lifestyles for 25 years. As your marriage officiant, I will help you create a ceremony to reflect your beliefs and traditions. I invite you to sit with me, that I may learn your personal story; collaborate with you to create your ceremony, review, rehearse and officiate on the big day.
I've listed several suggestions to create a marriage ceremony that will be true to both of you and your relationship…one that you will cherish for the rest of your lives.
Announce your ceremony: Do this any way that feels authentic.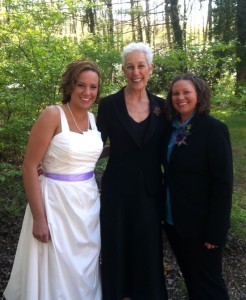 Express yourselves: Express in words, poetry, music or symbolism how you feel about each other, your hopes and dreams for your future, your similarities and differences and the journey that brought you both together. 
The processional: Choose the music you both love. You can have one or both of your parents or any special person in your life walk you down the aisle. 
Include your guests:  Your ceremony is an inclusive experience. You may choose to have your guests pledge their support by expressing their love and happiness for your union. "From the depths of your hearts, please offer your prayers, blessings and wishes for this couple and the new life they are creating together this day".
What to Wear:  Just like any bride or groom on this special occasion, wear anything that makes you feel fabulous and festive.
Symbolic Rituals: You may borrow any and all marriage rituals and make them uniquely your own. You may wish to include: Wine Exchange, Sand Ceremony, Love Letter Box, Unity Candle,  Inclusion of Children, Honoring Parents, Blending of Families, Handfasting, Offering of Readings, Vow and Ring Exchange, etc. More ceremony options
Commitment Ceremonies are a wonderful opportunity and available to any couples, gay or straight, who choose to celebrate and honor their love with a formal commitment to each other without undergoing a legal marriage. It is for those who simply do not wish to legally marry for personal reasons. It is a joyous arena for couples that want their commitment to each other to be recognized. There are no legal benefits and your decision to have a ceremony does not involve any government. A beautiful, personalized commemorative certificate signed by witnesses of your choice and me, your officiant, will be my gift to you; tangible evidence of this special event.
Goodridge V. Department of Public Health
Marraige is a vital social institution.  The exclusive commitment of two individuals to each other nurtures love and mutual support; it brings stability to our society.  For those who choose to marry, and for their children, marriage provides an abundance of legal, financial and social benefits.  In return it imposes weighty legal, financial and social obligations… Without question, civil marriage enhances the welfare of the community.  "It is a social institution of the highest importance."  Marriage also bestows enormous private and social advantages on those who choose to marry.  Civil marriage is at once a deeply personal commitment to another human being and a highly public celebration of the ideals of mutuality, companionship, intimacy, fidelity and family…because it fulfills yearnings for security, safe haven and connection that express our common humanity. Civil marriage is an esteemed institution, and the decision whether and whom to marry is among life's momentous acts of self-definition.